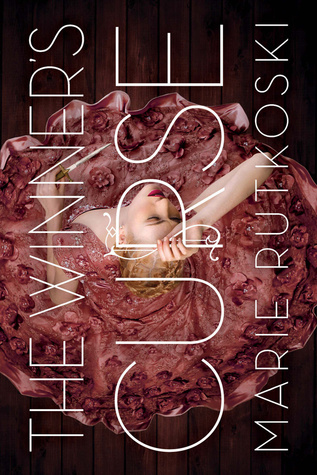 Title: The Winner's Curse (The Winner's Trilogy #1)
Author: Marie Rutkoski
Released January 1, 2014
Purchased Hard Cover
Rating: 4/5
Summary
Winning what you want may cost you everything you love...
As a general's daughter in a vast empire that revels in war and enslaves those it conquers, seventeen-year-old Kestrel has two choices: she can join the military or get married. But Kestrel has other intentions.
One day, she is startled to find a kindred spirit in a young slave up for auction. Arin's eyes seem to defy everything and everyone. Following her instinct, Kestrel buys him—with unexpected consequences. It's not long before she has to hide her growing love for Arin.
But he, too, has a secret, and Kestrel quickly learns that the price she paid for a fellow human is much higher than she ever could have imagined.
Set in a richly imagined new world,
The Winner's Curse
by Marie Rutkoski is a story of deadly games where everything is at stake, and the gamble is whether you will keep your head or lose your heart (Summary from Goodreads).
When I finished The Winner's Curse I wasn't quite sure how I would rate it. But upon reading other people's reviews on Goodreads, I decided on 4/5, and I'll explain why in a bit.
I found myself really into the story for the majority of the book. Kestral, the main character, is the general's daughter in the Valorian empire. Now, some reviewers say that the characters were cardboard, and while they could have had better characterization, I still found Kestral to be an understandable character through most of the book.
In the beginning, Kestral seems like an almost haughty high society girl who likes to disregard some of the social norms in Valorian Society, such as having an escort when out in public. I think this somewhat rebellious side of her leads her to buy a Herrani slave, Arin, who she eventually (spoiler) falls in love with. Kestral has the option to either join the military or marry. Since she isn't particularly good at combat and doesn't care to kill people, she knows she'll have to marry. Overall, I found her to be a smart character who is knowledgeable in military strategy.
I also really liked Arin's character. He is also very smart and, later on in the book, very sweet to Kestral. I enjoyed the Bite and Sting games he and Kestral would play and they are just really cute together. I'm liking this ship, and that cliffhanger ending has got me wanting more.
Now, the only reason I feel this doesn't quite deserve 5 stars is because the writing didn't feel like 5 stars. After reading a lot of books, I seem to lean towards books that have a certain writing style where there is more descriptions about the environment, more nuances in the character's actions, and lots of feels. I did get lots of feels from this book toward the end, but something about the writing was missing for me. Because of that the story slowed down around the latter half of the book, but for the most part I was intrigued with the story and constantly wondered what would happen next. THAT CLIFFHANGER ENDING AHHH!!!
Also, I'm sorry I think my review really jumps around everywhere kinda randomly, but hey this is my blog and I can be a weirdo if I want to.
Also also, the cover is gorgeous. Just sayin'.