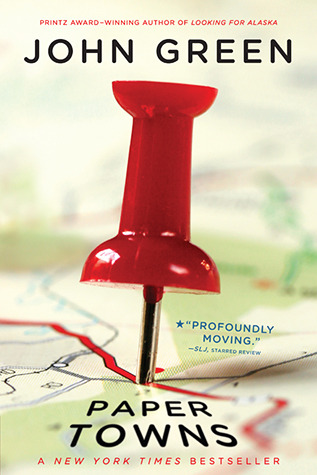 Title: Paper Towns
Author: John Green
Released September 22, 2009
Rating: 4/5
Summary
Who is the real Margo?
Quentin Jacobsen has spent a lifetime loving the magnificently adventurous Margo Roth Spiegelman from afar. So when she cracks open a window and climbs into his life—dressed like a ninja and summoning him for an ingenious campaign of revenge—he follows. After their all-nighter ends, and a new day breaks, Q arrives at school to discover that Margo, always an enigma, has now become a mystery. But Q soon learns that there are clues—and they're for him. Urged down a disconnected path, the closer he gets, the less Q sees the girl he thought he knew...(Summary from Goodreads).
Possible Spoilers Ahead!
Paper Towns
was my first John Green novel and now that I've finally gotten a taste of one of his books I've somehow been initiated into the hipster world. That probably doesn't make sense but I digress.
Paper Towns
started off strong and filled me with intrigue as Margo took Q on an epic adventure for revenge throughout the first quarter of the book. After Margo left, I was hooked to find out what happened to her and what epic adventure Q would have to go through to find her. However, I admit that, for me, the story kind of slowed from there. I think my expectations were a little too high from the amount of hype that John Green's books get, but the quirky characters and the mystery made the story enjoyable for the most part.
It wasn't until the end that I think I got what the theme of the story was really going for. Q was so entranced by the Margo he knew as a child that he always thought of her as a legend, not like a regular teenage nonconformist. I found it difficult to relate to Margo. She basically left her home without even thinking about what that would do to the family and friends that actually care about her. I mean, if she actually thought that no one truly cared for her, I guess I can see where she's coming from, but it seems irrational to not wait at least until she graduates to move out.
Q was also a bit naive because he lived his life with this fantasy that Margo was this epic person. It was a little disappointing to find out that she only left clues for Q to find the subdivision she used to hang out at, not to find her location. Really Margo?? How would anyone know that was your intention? I suppose that makes it all the more impressive that Q and the gang were able to locate Margo anyway.
Despite these drawbacks, the story was enjoyable and I found myself laughing out loud a few times from the dialogue between Q, Radar, and Ben. One thing I could very much relate to was Q's mixed feelings of nostalgia, fear, and excitement toward the end of his senior year. The sense of peace he felt after finishing his last exam and walking out of the school was the way I felt on the day of my graduation last year. I think there is a lot of hype for John Green's novels because his characters feel the same things we do in reality.
It may be awhile before I read my next John Green book (my TBR pile is huge!), but I think there is a strong possibility that I'll pick up another one in the future. Also, if you've read the book, around the part where Q and Margo dance near SeaWorld a song called Stars Fell On Alabama plays in the background. I looked up a cover of it by She & Him (sung by Zooey Deschannel), and I listened to it at least a dozen times. I'm listening to it now as I'm typing this. That is all.