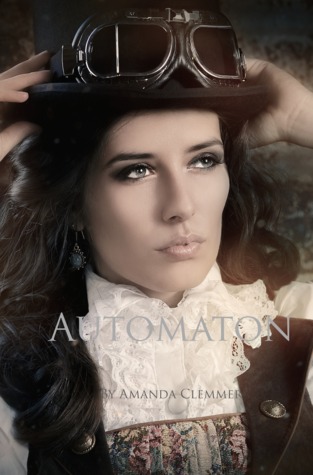 Title: Automaton
Author: Amanda Clemmer
Genre: Science Fiction, Steampunk
Released May 22nd, 2015
Summary
Last Thursday I awoke to learn that I died almost a month ago. I was rebuilt from a highly experimental process of clockwork and cloning, and I don't know why. One man knows my secret—my creator, the lead of the Leona Scientific Laboratory. He says knowledge isn't free. I say that unless I know why I'm here, he's the one who's going to pay.
My friend Jack Beasley has offered his help. He has inside knowledge about the laboratory and the man who runs it. I think he also knows something about me that he isn't sharing. There's no one I can trust now. Not even myself (Summary from Goodreads).
Buy Automaton now on your
Kindle
!
Author Interview
When did you start writing? Is it something you've always loved?
Reading is something I've always loved. I didn't write much on my own until one night as a kid when I was so bored that I took it upon myself to write a book. I've never looked back!
What genres do you enjoy writing? Is there more than just Steampunk?
Steampunk is relatively new to me. I like writing almost any kind of genre (except erotica) and most of my writing has been either science fiction or fantasy. I also enjoy writing micro-fiction and poetry.
How did you get your idea for Automaton?
My idea for automaton started as an awkward high school dream of learning that my skeleton had been replaced because of an illness I couldn't remember. I planned it out on-and-off for years, and assumed it would be science fiction. My decision to switch genres to Steampunk came as part of a planning experiment when I was wondering how the plot would play out in different settings. I liked it so much I decided to stick with it!
What was your inspiration while writing?
As for literary inspiration, I think it's a tie between Jules Verne and Neil Gaiman. I listened to Abney Park music while writing and editing, and that shaped a lot of the atmosphere and Steampunk-ness.
Who's your favorite character in Automaton? Why?
I think Mr. Steele is my favorite character. In the rough draft he kept switching from heartless villain to misunderstood hero, and I couldn't decide how to shape him. He eventually settled into being a mysterious anti-hero, someone who means well but takes terrible and unorthodox measures to do what he thinks is right.
What are you working on now? Will there be a series for Automaton, or is it an independent novella?
Originally, Automaton was a single novella written as a part of the NaNoWriMo challenge. By the end of the story, there was far too much going on to cram into the one book, and I knew I'd have to write more. While I don't know how long the series will get, I have so many plot points, secrets, and back story elaborations for each of the major characters that I'm currently guessing it will last for at least three books.
What made you decide to publish independently instead of looking at traditional publishing options?
I have actually been published traditionally several times. Automaton itself even started out as a semi-traditional online publication through Jukepop. I decided to take it back and self publish it so that I could have better control over the publicity and royalties and cut back on some of the waiting time.
Did you design your own cover?
Yes—but the cover you see now is not the first. My original guidelines for the cover were that it couldn't be photographic and that it couldn't show her face… basically the opposite of what I chose in the end. This is also the first cover that I paid money for, though I did much of the designing and photo editing myself.
What has your favorite part of the writing and publishing process been so far? Why?
There have been a lot of high points in the writing and publishing process. Finishing the rough draft is always exhilarating, and knowing that I had good ways to move forward was great. But I think my favorite part has been reading reviews and hearing what others have to say. It's scary to put your writing under the public microscope, but learning that my writing has brought some joy to a stranger's day is one of the best feelings imaginable.
Now a bit about you. Where are you from?
That's a hard question to answer. I'm a missionary kid, and I've moved an average of once every two years through my life. I was born in Seattle and now live in Maine (a few minutes away from Stephen King!), but will probably move to New Hampshire over the summer. I've also lived in Quebec, the Democratic Republic of Congo (formerly Zaire), southern California, the upper peninsula of Michigan, western Tennessee, the tip of Florida, Wisconsin and Minnesota. I can get nostalgic about any of those places!
What books do you enjoy reading?
Currently I'm catching up on some independent fantasy and science fiction. I've also been reading R. Scott Bakker's Saga of The Three Seas (sooo good!), Jules Verne, and some Neil Gaiman.
Lastly, favorite kind of tea and names of cats—if any?
Right now I'm going through a phase of green Jasmine tea. It's light and sweet with just enough flavor! My husband and I have two cats right now—a partial Maine coon called Pretty Kitty (the manipulative one) and a muscular orange cat called Minsc (the sweetheart).
Giveaway
Enter for a chance to win an ebook copy of Automaton!
a Rafflecopter giveaway
About the Author
Amanda Clemmer is a freelance writer and musician living in the heart of Maine. Her work has been published traditionally through the
Snow Monkey
literary journal and JukePop Serials, and over the past few years she has been expanding her reach through self publishing.
Automaton
began as a part of her 2014 NaNoWriMo challenge and was quickly accepted as a JukePop serial. She has since revised it and is excited to release it in more digital and physical formats independently.
Author Links:
Website
|
Goodreads
|
Facebook
|
Twitter