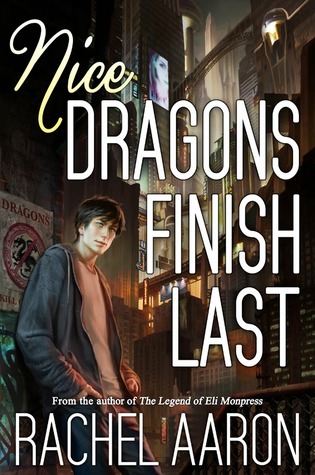 Title: Nice Dragons Finish Last (Heartstrikers #1)
Author: Rachel Aaron
Released July 15th, 2014
Bought on Kindle
Rating: 5/5
Summary
As the smallest dragon in the Heartstriker clan, Julius survives by a simple code: keep quiet, don't cause trouble, and stay out of the way of bigger dragons. But this meek behavior doesn't fly in a family of ambitious magical predators, and his mother, Bethesda the Heartstriker, has finally reached the end of her patience.
Now, sealed in human form and banished to the DFZ--a vertical metropolis built on the ruins of Old Detroit--Julius has one month to prove that he can be a ruthless dragon or kiss his true shape goodbye forever. But in a city of modern mages and vengeful spirits where dragons are considered monsters to be exterminated, he's going to need some serious help to survive this test.
He only hopes humans are more trustworthy than dragons...(Summary from Goodreads)
Julius is considered a "bad" dragon because he is too nice and tries to stay out of the way of his ambitious older siblings. Julius is just trying to survive, but his mother Bethesda finds his behavior lazy, and the great Heartstriker
clan has no use for lazy dragons. So his mother decides to banish him to the one place where dragons are illegal: the Detroit Free Zone, where he is stuck in his human form due to a seal placed by his mother. Julius must prove that he is a ruthless dragon or else his mother will eat him.
From the very first page, I knew I was going to like this book. I'm not quite sure why. It could have been the writing, the witty main character, or the plot, but either way I loved it. My friend recommended this book to me, and I am soooo happy I picked it up.
First of all, the plot was interesting, and there were some nice action-packed scenes but with humor thrown in, which just made it perfect for me. I love it when a story can mix action and humor. I also like how there seems to be an even greater conflict going on between dragon clans, so I'm really looking forward to the next book to see what happens with that.
The characters had personalities of their own that I really enjoyed getting to know, especially Julius' elder brother Bob, a seer who was crazy and hilarious, and Marci, a human mage with a bold and adorable personality. There is a little romantic interest going on between Marci and Julius, but it doesn't go very far in this book (I always love me a good ship!).
Also, I loved the magic system. There were rules to the magic that made it feel believable. For instance, dragons make their own magic, while human mages have to use a magical source to draw magic. I found it really interesting when Marci explained how she writes script on things to use magic (kind of like computer programming). Not sure if this makes sense to ya'll, so you'll just have to read it!
Gahhh all I can say is that I really liked this book. Now I need to stop procrastinating and study for my final exam tomorrow *sigh*.