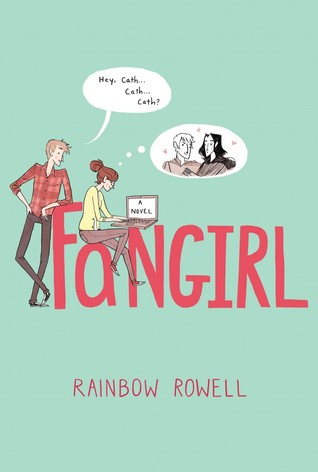 Title: Fangirl
Author: Rainbow Rowell
Released September 10th, 2013
Bought on Kindle
Rating: 3.5/5
Summary
A coming-of-age tale of fan fiction, family and first love.
Cath is a Simon Snow fan.
Okay, the whole world is a Simon Snow fan...
But for Cath, being a fan is her life—and she's really good at it. She and her twin sister, Wren, ensconced themselves in the Simon Snow series when they were just kids; it's what got them through their mother leaving.
Reading. Rereading. Hanging out in Simon Snow forums, writing Simon Snow fan fiction, dressing up like the characters for every movie premiere.
Cath's sister has mostly grown away from fandom, but Cath can't let go. She doesn't want to.
Now that they're going to college, Wren has told Cath she doesn't want to be roommates. Cath is on her own, completely outside of her comfort zone. She's got a surly roommate with a charming, always-around boyfriend, a fiction-writing professor who thinks fan fiction is the end of the civilized world, a handsome classmate who only wants to talk about words... And she can't stop worrying about her dad, who's loving and fragile and has never really been alone.
For Cath, the question is: Can she do this?
Can she make it without Wren holding her hand? Is she ready to start living her own life? Writing her own stories?
And does she even want to move on if it means leaving Simon Snow behind? (Summary from Goodreads)
Fangirl follows Cather ("Cath"), a college freshman and shut-in who struggles with anxiety, and as one can tell by the title of the book, a fangirl of a fictional series of books that seem very much like Harry Potter. She is the complete opposite of her identical twin sister Wren who is super charismatic and isn't afraid to party hard. There isn't a real "plot" to the story, but there are several struggles that Cather and Wren go through throughout the book.
Spoilers Ahead!
It's hard to talk about the book without possibly giving away spoilers. On top of Cath's anxiety and trouble fitting into the college life, her and Wren's mother left them when they were only eight years old, and the twins are left to pick up the pieces of their father, who tends to have nervous breakdowns.
I feel a bit guilty because there was a lot of hype about this book and I didn't enjoy it as much as I thought I would. Cather's roommate, Reagan, offered much needed humor to the story, but I found most of the attempts at humor from the other characters were not very funny to me. It was like it was supposed to be quirky but it just didn't work. Some of the descriptions were difficult for me to visualize, as well. For instance, it was hard for me to imagine Reagan's ex-boyfriend and best friend (and Cather's boyfriend) Levi smiling throughout most of the book. I just went through my first year of college, and let me just say that I could never imagine someone actually doing that. Also this:
"His lips were thin but dark, the same color as the inside of his mouth."
and this:
"His mouth was small, but bowed. Like a doll's. She wondered if he had trouble opening it wide enough to eat apples."
and especially the last sentence of this:
"Inside, her internal organs were grinding themselves into nervous pulp. Her intestines were gone. Her kidneys were disintegrating. Her stomach was wringing itself out, yanking on her trachea."
Ew. Just no.
Another pet peeve of mine was that Levi would call Cather "Sweetheart." Seriously? My mom calls me sweetheart. And, it seemed like Cather was pointing out all of Levi's physical flaws almost every time she saw him, which I thought was annoying. I don't know. Maybe I'm being a bit harsh.
However, I did truly enjoy the exchanges between Cath, Levi, and Reagan in the beginning. Reagan actually had me laughing whenever she made fun of Cath's social ineptitude. Levi had me swooning a couple times. I did like Levi, but I felt like his character was really unrealistic.
On the other hand, I could relate to Cath in a few ways. I think a lot of college freshman have to deal with friends (or in this case, Wren) wanting to practice their independence and meet new people. This is definitely something I've experienced this past year. While I'm not a writer, I can relate to Cath's love of Simon Snow. I was pretty obsessed with The Mentalist for the last two years, and I'd spend hours reblogging on Tumblr until the season finale this past February. Lastly, I admired Cath's willingness to help her father when Wren wouldn't.
I'm sorry I didn't enjoy Fangirl. It felt like something was missing – it could be the lack of a real plot or the fact that I'm so used to reading epic fantasies, or maybe just the writing. Actually, this may be the first contemporary YA book I've read so far! This could totally just be my personal preference. Even though I didn't care for Fangirl much, I encourage you guys to read it because so many other people loved it.